And the weirdness continues . . . the menu tried to describe Chinese food using Italian. Guess what the fried wontons were called? Steamed ravioli!!!!!!! Craziness!
France
Next I went to Paris. While wondering around I was just leaving the Eiffel Tower when it started to rain somewhat hard. Hungry, wet, and tired of walking all day (and up/down that damn tower!) I had decided to find a restaurant to take a break and eat something yummy. Strangely, the very first restaurant I came across was Thai! Wasn't even looking for a Thai restaurant! Curious how Thai's live in Europe, I entered the raan ahaan (Thai for restaurant).
Unfortunately the menu wasn't all that great. I don't mean it listed bad food, but instead it attempted to use French descriptions to describe Thai food. No idea what I was looking at . . . wish I had taken a pic of it . . . quickly giving up I just asked in Thai for 'pad thai gap gai' (chicken pad thai) and some basic 'nam blaow' (water). Can't ever go wrong with those =)
I also asked for some cha yen (thai iced tea) . . . but . . . shockingly . . . the waiter didn't know what that was . . . gasp! Did I say it wrong?!? No, it's a simple name, I've been using it for ages. Repeating it didn't help. Was he really Thai?!? Well he and his wife looked Chinese, the raan ahaan had some Chinese decor combined with the mostly Thai decor . . . perhaps they were Chinese-Thai? But no, he spoke Thai to his wife . . .
And get this, he spoke French to the other customers! Craaaaazzyyy!
Perhaps they had been in France for too long, I dunno . . .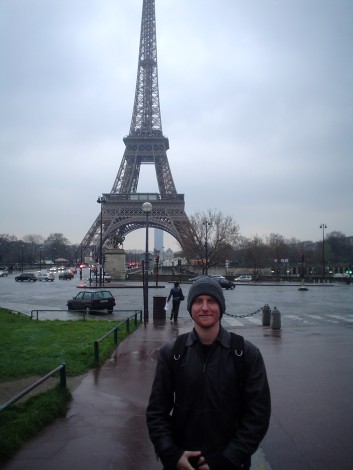 Anyway I got a medium sized bowl of pad thai and a side of fried pork chips. With the water it all came out to 16 euros (~$21 as of March 2007). Expensive! There were like 30 sushi restaurants all on the same street near Place de L'Opera . . . should have gone there instead for cheap yummy food . . . oh well . . . guess they had a monopoly on Thai food . . .
Curious about an American speaking Thai in France, I had a chat with this waiter/manager (same person). I asked him how many Thai's were in France, etc. He said not many at all. He also said there were just a few other Thai restaurants, but they were run by Laotians and Cambodians.
When leaving the restaurant it was still raining. Too distracted using my umbrella to stay dry I forgot to take a pic of the place =(
I also forgot to remember what street it was on . . . But what I can tell you is that it is between Palais De Chaillot and the Arc De Triomphe Etoile. It is also between Avenue Kleber and Avenue D'Iena, but not on either of those streets. I'm willing to bet it was on Rue Hamelin but not sure.
Besides this restaurant there was one other Thai influence I found in France. I passed by quite a few travel agencies while walking around, and all of them had at least one picture from Thailand up in there windows - most usually a Thai-style Buddha or pagoda.
Click to continue to Part 2 of Thailand in Europe