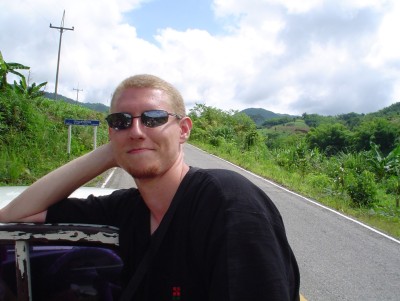 So who am I?
Well I don't want to bore you too much, so lets see . . .
I was born in Kenner, LA in 1981. I lived there until I moved to Pittsburgh for college.
I graduated from Carnegie Mellon University in 2004 with a degree in Mechanical Engineering and an emphasis in Robotics.
My first Thai experience was the summer of 2004, in which I stayed for one month. I enjoyed it enough to go again in early 2005 and stayed another month.
I have been studying the Thai language between 1-2 hours a day everyday since two weeks before my first trip to Thailand. I am still studying Thai as of this writing and have no plans to quit.
A few months after my 2005 trip I got a job at the Naval Research Laboratory in Washington, DC as a robotics specialist to build robotic fish. I currently study Thai and teach English at Wat Thai DC every Thursday at 7pm (come joins us!).
I have been living in DC since, but have plans to return to Thailand in 2007 and live there for a year.
Do I have a life outside of Thailand?
Of course. I am not obsessive about Thailand, nor do I think Thailand is better than the US, my home. But of course there are things I, and many others like me, really find alluring about the land of smiles. Some like it for the food, some for the scenery and beaches, some for the kind people (and hot girls/guys!). I like it for the adventure, a land so unlike my own, even a trip to the grocery store can be fun.
Why did I make this site?
Because Thailand is so unlike any western country! I and other contributors to the site would like to write and explain to you our experiences so that you can understand Thailand from a westerners point of view.
What about those pics on your site? Are they yours?
About 90% of them are. I try to use as much as I can from my own extensive photography. If you are interested in checking out more of my work, visit my Asia photoalbum.